Triphala 60 Tablets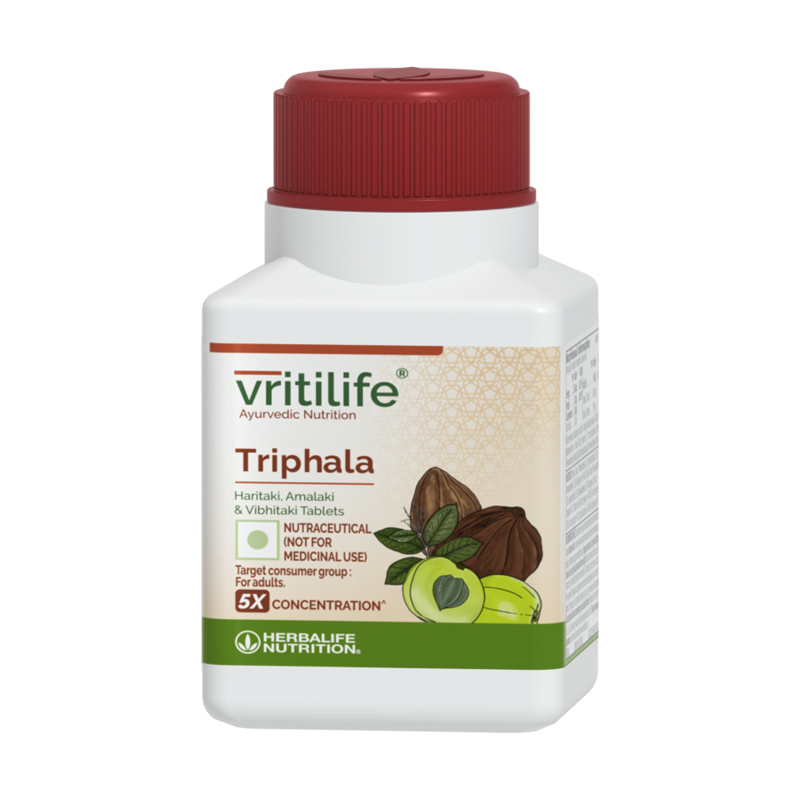 SKU 186K
Maximum Retail Price MRP (Inclusive of taxes) Rs. 1138
Product Overview
Vritilife - Triphala tablet is a combination of three indigenous fruits -Indian gooseberry (Amla), Chebulic myrobalan (Harad) and Bedda nut tree (Baheda). It is a uniquely processed, standardized, 5X concentrated Triphala extract blended with Triphala powder comprising full spectrum of actives. Triphala extract is standardized to 50% Tannin 5-6% Gallic acid.

Key Benefits:
Supports digestion1
Helps relieve constipation1
Revered as "Rasayana2" as per Ayurveda3.
Known as antioxidant4.
Primary use:
Triphala supports digestive system and helps in relieving constipation.
Recommended use: 
One tablet two times a day every day.
Ayurveda reference: - BHAVAPRAKASHA Vol 1, Translated by K R Srikanta Murthy, Published by Krishnadas Academy,Chaukambha Press, Varanasi.Edition 1998. (Purvakhanda, Haritakyadi varga) Chapter II, Pg 164 and 165.
"Rasayana" in Ayurveda is that which manages the revitalization metabolism, modulates immunity, and rejuvenates the human body. (Deshpande and Deshpande, 2018).
Suhail Ahmed et al., Journal of Ethnopharmacology Volume 273, 12 June 2021, 113829
Goyal M. Ayu. 2018 Apr-Jun;39(2):63-64.
Disclaimer- This post is for general information and not intended to be a substitute for the advice of a qualified and registered medical practitioner or a recommendation for any treatment plan. Herbalife products are not intended to diagnose, treat, prevent, or cure any disease. Please see individual product label for detailed information